Today's Fourth of July is going to be an "Oooh-Aaaah" at the Travis Air Force Base in Fairfield, Calif. For this holiday and the base's 75th anniversary 500 Intel Shooting Star drones will replace traditional fireworks and take to the sky to perform an aerial routine.
These are the same drones that preformed at Disney World, the Super Bowl and the Olympics.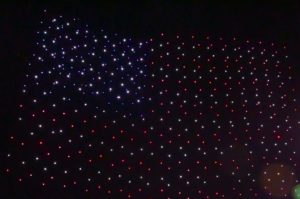 One person controls the fleet of drones thanks to a sophisticated control platform that pre-plans the route of each drone. Intel engineers told me that the system can control an unlimited amount of drones. In the version I saw, the drones used GPS to stay in place and the drones lacked any collision detection sensors.
It's an impressive show of technology. I was in attendance for the first show at Disney World and the drones are a wonderful alternative to fireworks. Sure, fireworks are a Fourth of July tradition, but they can't do the things these drones can do, plus, because they're much more quiet, more people can enjoy the show.