Bike share pilot has kick off in the Rockaways, the central Bronx, and on the North Shore of Staten Island – and later in the year in Brooklyn's Coney Island; Each community will receive at least 200 bikes, including pedal-assist models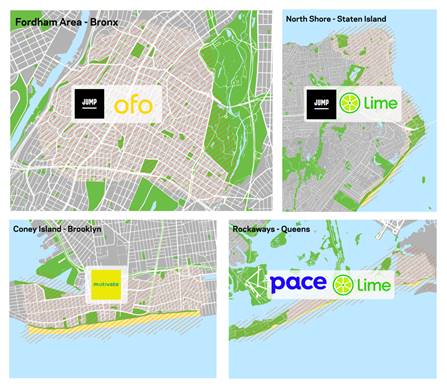 According to the The New York City Department of Transportation five companies where named that are beginning to offer dockless bike share in neighborhoods in boroughs outside Manhattan. Eventually, each neighborhood will host no fewer than 200 bicycles. Regular pedal bikes will be supplied by the companies Lime, Motivate, ofo, or Pace. Those bikes will be supplemented in each community by pedal-assist models offered by either JUMP or Lime. The bike service are offered in the Rockaways in Queens, central Bronx and Staten Island. Then later this year, Coney Island in Brooklyn will also host a pilot.
"We at DOT are excited to name the companies that will bring dockless bike share to four different communities in New York City for the first time," said DOT Commissioner Polly Trottenberg. "Each of the five selected companies are leaders in this emerging field, and in the course of the pilot, we will see how they perform in diverse New York City neighborhoods that have never before seen bike share. We strongly encourage New Yorkers to get out this month to explore some great neighborhoods by bike — and give us feedback on their dockless experience."
The five companies participating in the pilot all signed contracts with DOT that obligated them to provide bikes to specific New York City pilot communities pending a change to city regulation. According to the DOT, the change makes pedal assist bicycles legal as of Saturday, July 28.
During June, DOT visited affected community boards in the Bronx, Queens, Brooklyn and on Staten Island, presenting plans and establishing final boundaries (see map above) for each of the pilot areas. As part of this consultation process, DOT expanded the Rockaways pilot area, which now includes the entire peninsula. DOT also adjusted its plans for Coney Island, where strong community concerns about current construction projects and summer crowding led to a postponement of the pilot there until later this year.
Eventually, each neighborhood will host a minimum of 200 bikes that must remain within the pilot boundaries during the course of the pilot. Each company's pricing structure is expected to differ although dockless models around the country generally allow bikes to be rented in 30-minute increments via an app on a mobile phone, usually for $1 or $2 per ride.
During the pilot, DOT will carefully evaluate companies' compliance with requirements around data accessibility and user privacy. Evaluation criteria will also include the safety, availability and durability of the bikes themselves. In the evaluation period, DOT will also make a determination on future steps, including the possible implementation of pilots in different or expanded geographic areas.
"My constituents have long called for the expansion of bike sharing programs of all kinds into The Bronx," said Bronx Borough President Ruben Diaz Jr. "I look forward to hearing their thoughts on this pilot program as it is underway, and to working with all stakeholders to examine the best ways such programs can be provided to Bronx neighborhoods."
"I am pleased to see bike share taking shape on Staten Island," said Staten Island Borough President James Oddo. "This program allows a responsible operator to provide Staten Islanders with an affordable, safe, and convenient bike share system along the North Shore. I look forward to the pilot program beginning later this month."
"By bringing dockless bike share, New York City joins many cities around the country that have embraced this type of bike share system," said Council Member Ydanis Rodriguez, Chair of the Council Committee on Transportation. "We look forward to the outcomes of this pilot as we endeavor to find innovative ways to encourage New Yorkers to choose greener, and of course safe, transportation options to move around the city."
"Bike sharing provides a transportation option that supports transit equity, outdoor activity, exercise and improved health outcomes," said Council Member Fernando Cabrera. "The Bronx is long overdue for dockless bike sharing, which has been available in Manhattan for several years. I'm happy that the Central Bronx and Fordham neighborhoods have been chosen for the pilot and I'm looking forward to the program advancing to the next level as a permanent option for Bronx residents."
"Dockless bike share, when thoughtfully implemented, can provide our community with much-needed multi-modal transportation options that will reduce congestion and emissions while encouraging active, healthy lifestyles," said Council Member Mark Treyger. "I commend DOT for working with local stakeholders to develop an effective plan for rollout."
"JUMP was born in NYC and we look forward to bringing our dockless, pedal-assist bikes to the Bronx and Staten Island," said JUMP Bikes founder and CEO Ryan Rzepecki. "JUMP bikes will help reduce traffic congestion, connect residents to public transportation, and make cycling an even more viable and fun transit option for New Yorkers."
"Lime is thrilled to roll out our affordable, reliable dock-free bikeshare program in the Rockaways and Staten Island," said Gil Kazimirov, Lime New York general manager. "We look forward to working with DOT to create new transportation options that every New Yorker can enjoy — no matter where they live — for a cleaner, healthier more mobile city."
"We are excited to work closely with the City and NYCDOT to deliver a bike share pilot that works for the Coney Island community," said Citi Bike General Manager Kris Sandor. "Citi Bike is as iconic New York as the Wonder Wheel — and we look forward to delivering a fun, accessible, and affordable mobility option that residents and visitors will use and enjoy."
"We're extremely excited to participate in the city's 2018 Dockless Bike Share pilot program," said Tim Ericson, CEO of Pace's parent, Zagster, Inc. "Zagster today operates more than 250 bike shares across 35 states, and great cities like New York, Chicago, and Austin are selecting Pace for our lock-to technology and proven smart bike platform. As we deploy our bikes later this month, we'll continue to work collaboratively with DOT officials to deliver a successful, safe, and sustainable dockless bike share program for residents and visitors alike in the Rockaways."
DOT's dockless bike share pilot is a result of a Request for Expressions of Interest (RFEI) issued last December seeking ideas around next-generation "dockless" public bike share systems. Twelve different dockless companies had initially responded to the RFEI. The City will continue to support and strengthen Citi Bike, including through increased coverage announced last week by DOT in preparation for next year's L train disruption. All of the new dockless systems will be required to operate entirely outside of the Citi Bike area in Manhattan, Brooklyn and Queens, thereby not duplicating or undermining current bike share service.
For more information on New York City's bike share system, please see www.nyc.gov/bikeshare