Washington D.C. – As if from the pages of Adolf Hitler's playbook, Donald Trump nearly succeeded in what is now considered an act of tyranny by a standing President to maintain power. Little is known as to how the masses were able to infiltrate The Capitol Building, but it's known that both Sen. Mitch McConnell and Sen. Ted Cruz used their platforms to assist Trump to provoke civil unrest. A total of four assailants are confirmed deceased stemming from the attack. While many more were injured and arrested.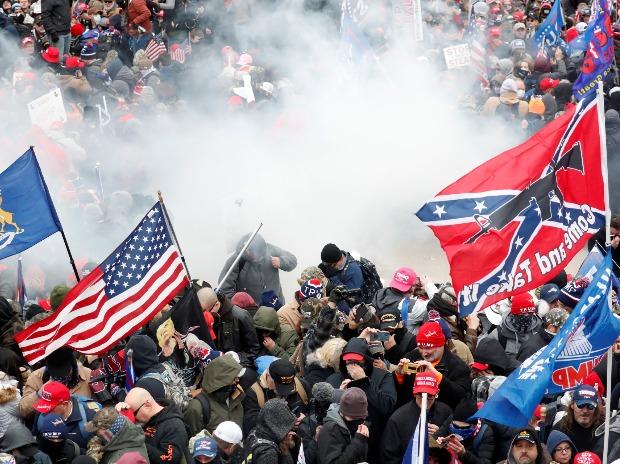 Donald Trump's insight and provocation against the Nation's democracy fuel a rebellion in The United States Capitol by citizens turned to domestic terrorist in hopes to overturn the Electoral College's Presidential confirmation hearing and prevent the naming of President Joseph Biden. One of these individuals was identified as Ashli Babbitt, a 35-year-old woman from Huntington, Maryland, and veteran of the U.S. Airforce.
Babbitt was shot after she and multiple rioters infiltrated The Capitol Building as officers became the single line of defense between the terrorists and the Nation's law makers. She was given immediate medical assistance and taken to a local hospital, where she was then pronounced dead. The officer who took the shot has been placed on administrative leave pending a joint Metro Police and USCP investigation, USCP said.
Three other rioters, one adult female and two adult males suffered medical emergencies which also led to their deaf according to Chief Contee from the Metro Police. He said, "Any loss of life in the District is tragic and our thoughts are with anyone impacted by their loss."
Contee identified them as a 50-year-old man from Ringtown, Pennsylvania; a 55-year-old man from Athens, Alabama; and a 34-year-old woman from Kennesaw, Georgia. The three had also infiltrated the grounds of the Capitol when they experienced their medical emergencies, according Contee. Earlier Wednesday, DC Fire and Emergency Medical Services transported people to area hospitals with injuries ranging from cardiac arrest to multiple fractures after falling from scaffolding on the West front of the Capitol building. However, city officials did not say whether any of these people are the ones who died.
The question many are asking across the country is how did the most secure building in the Country become easily overturned? Especially given the fact that there was ample time to prepare and warning that there would be major protest during the January 6th assembly.