Many Little Mix fans are calling out former member Jesy Nelson and accusing her of blackfishing.
Pointing out Nelson's ethnicity, an apparent biased article shared the real skin tone of the crooner and compared how she actually appears in public with dark make-up.
Singer and songwriter Jesy Nelson was in the news a few days ago when she dropped a bomb over why she left her girl band, Little Mix, revealing anxiety and panic attacks made her quit the group for good. The talented singer, who then got a lot of support from her fans, again made the headlines but this time for all the wrong reasons.
The 29-year-old songstress was trending on Twitter for "blackfishing" over the weekend after a detailed article on Buzzfeed shared, "Dear Little Mix Fans, We Need To Hold Jesy Nelson Accountable". The publication accused the singer of blackfishing which ultimately led to chaos on the micro-blogging site. While many were in shock over not knowing Nelson was White, a majority of them slammed the trend claiming Ariana Grande has been 'blackfishing' since 2014 and nobody said anything to her.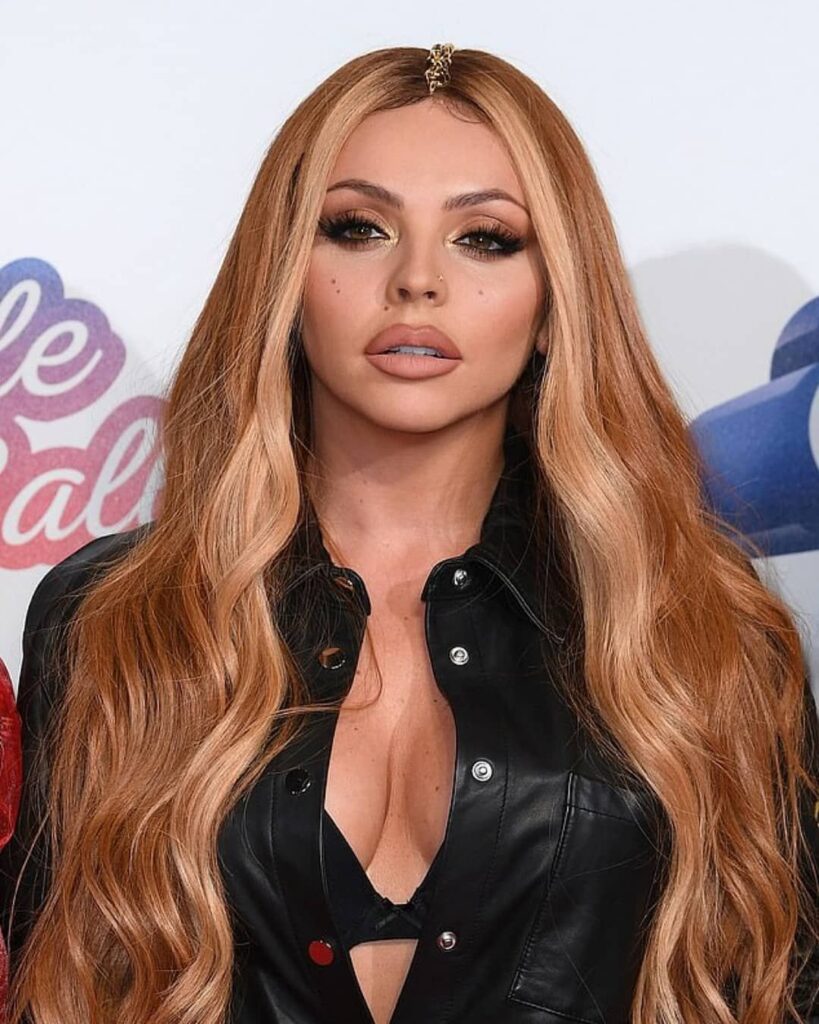 What is Jesy Nelson's ethnicity?
Pointing out Nelson's ethnicity, the apparent biased article on Buzzfeed shared the real skin tone of the crooner and compared how she actually appears in public with dark make-up. They also shared a Tumblr thread that pointed out the singer's problematic behavior. According to Buzzfeed, one Tumblr user stated, "Now, the thing is, blackfishing is not just about tanning. It can also be about making yourself look racially ambiguous and Jesy has been so successful at it that most people think she's mixed." She was also accused of going beyond the fake tan, wearing wigs and purposely over-lining her lips to look "four times larger."
Apart from this, a music producer identified as MNEK, whose real name is Uzoechi "Uzo" Emenike, had spilled the beans on the same on one of his Instagram stories earlier while taking questions from his followers. He had reportedly reverted saying, "I think white people who blackfish and either don't realise it, or just blissfully ignore it, are kinda dangerous. It's like, hello, the tan, the surgery, the braids/wigs, and lip filler…??? You're white? Can we grow up and stop being weirdos? Idk, what do you guys think?" According to Buzzfeed, MNEK, who has produced several songs for Little Mix, also attached a snippet of Michael Jackson's 'Black Or White' to which users apparently thought it was directed at Nelson. For the uninitiated, Nelson is White. She was born in East London and has White parents with three other white siblings. Looking at the current debate, celebrities like Rita Ora, Kim Kardashian, and TikTok's Addison Rae have been earlier accused of blackfishing.
What is Blackfishing?
According to the website Health, blackfishing is a term that was partly coined by hip-hop journalist Wanna Thompson. It is a phenomenon of non-Black influencers and public figures using bronzer, tanning, photoshop or even cosmetic surgery to change their looks to appear Black or mixed race. The site further states the origin of the same revealing it comes from racist practice of blackface, which involves putting on dark makeup to mock the features of a Black person, often for comedic effect. Like blackface, blackfishing also treats Black features as a costume that can be removed at will.
'Ariana Grande has been blackfishing for years'
The debate over Nelson blackfishing turned wild on Twitter however, a majority of social media users slammed the publication for being biased and claimed that pop icon Ariana Grande has been doing the same for years and no one held her accountable. Speaking on the same lines, one user posted, "If you made assumptions about Jesy Nelson's ethnicity, that's on you. but if you're gonna start calling her out for her tan, then how about most reality stars or Instagram influencers? Skinny blonde women with tans aren't accused of blackfishing- you just want something to hate." One tweeted, "'Blackfishing' is not a thing, we are not letting it be a thing. We let non-binary become a thing, we let cultural appropriation become a thing, we must not cede ground on the latest woke nonsense. Jesy Nelson is not 'problematic' and we're stopping this now."

The next one shared, "If we are gonna call out Jesy Nelson now let's add some to the list starting by the beloved Ariana grande because she'd been blackfishing for years now but no one seems to say a word." Another added, "This Jesy Nelson trend is pathetic. Why is everyone so obsessed with race all the time? The comments of "she needs to be held accountable for blackfishing" is a completely ridiculous outrage." One individual said, "You all wanna call out Jesy Nelson for blackfish (as you should) however Ariana Grande has been blackfishing for years but no one wants to drag her." One asserted, "People really out here trying to call out Jesy Nelson for 'Blackfishing' da fuq? Ariana been pulling this shit since 2014 or are we just gonna keep overlooking that? Make it make sense."