Dr. Fauci has not been completely truthful on what went on in the Wuhan Lab. His dispute of what may or may not be considered gain-of-function (GOF) as it relates to his research in the Wuhan Lab can be base more on semantics rather than intentions. Recent evidence shows that they intended to create versions of the coronaviruses that were increasingly more dangerous to humans.
The U.S. Government defines "gain-of-function" as intentionally making a virus more pathogenic or transmissible in order to study them. Some scientists walk the fine line by arguing that such experiments on animals don't fall under the definition, because viruses rarely jump from animal to humans. But what could be the consequences if you genetical modify mice to have human like cells and then modify a virus so that it is more infectious to said humanized mice?
The National Institute of Health (NIH), which Dr. Fauci serves as a Director, has equivocally denied funding studies that would make a coronavirus more dangerous to humans after it was accused of doing so following the release of research proposals.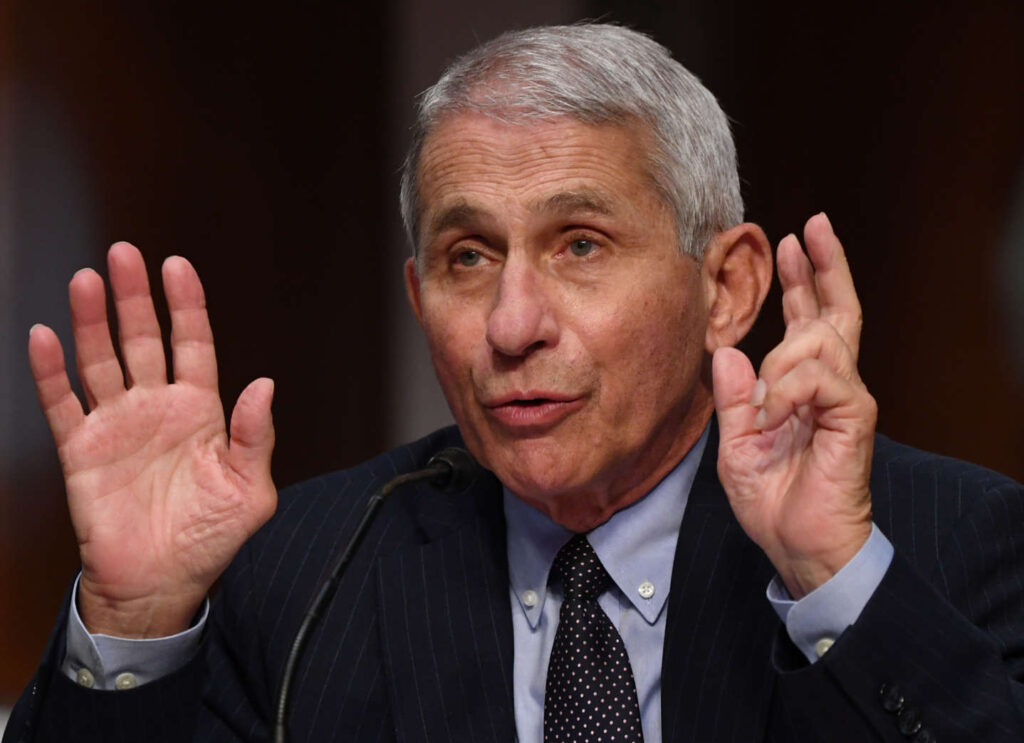 Perhaps the first significant and wide spread accusation that Dr. Fauci was responsible for the COVID-19 pandemic outbreak came from Dr. Judy Mikovits early on during the pandemic. She wrote a book called Plandemic, but at the time it appeared to be more like conspiracy theories than reality. Now with the recent documents that were obtained and released by The Intercept on Tuesday after it launched an FOIA lawsuit, Dr. Mikovits may have had some truth to her claims.
Richard Ebright, board of governors professor of chemistry and chemical biology at Rutgers University and laboratory director at the Waksman Institute of Microbiology, told news sources these documents show "unequivocally" that NIH grants were used to fund controversial gain-of-function research at the Wuhan Institute of Virology in China—something U.S. infectious disease expert Dr. Anthony Fauci has denied. In a Congressional hearing he responded to Senator Rand Paul, "If Anybody Is Lying Here, Senator, It Is You."
Fauci, the director of the National Institute of Allergy and Infectious Diseases (NIAID), which is part of the NIH, told Congress in May that the NIH "has not ever and does not now fund gain-of-function research in the Wuhan Institute of Virology."
Ebright said: "The documents make it clear that assertions by the NIH director, Francis Collins, and the NIAID director, Anthony Fauci, that the NIH did not support gain-of-function research or potential pandemic pathogen enhancement in Wuhan are untruthful."
GOF research involves modifying a biological agent, like a virus, so that it becomes more active. For obvious reasons, GOF research on influenza or coronavirus viruses has been "the subject of substantial scrutiny," by the NIH's own admission, as it potentially makes the virus more dangerous to humans.
Not all GOF research is equally dangerous. Some types, for example, modify bacteria to produce insulin to treat people with diabetes.
What the NIH has denied is funding GOF research that would make a coronavirus more dangerous, such as by improving its lethality or transmissibility.
In 2014, the NIH said it paused funding for GOF research that was "reasonably anticipated to confer attributes to influenza, Middle East Respiratory Syndrome (MERS), or SARS viruses" that would make them more transmissible to humans.
Speaking to, Ebright said this appeared to be false by his interpretation of the documents released by The Intercept.
"Multiple sections of the grant proposals and grant progress reports make it clear that the grants funded gain-of-function research of concern in Wuhan," he said.
"Two especially noteworthy sections are page 28 and Figure 35 of the year four progress report on the first five year grant term (1R01-AI110964) and page 3, Figure 6, of the proposal for a second five-year grant term (2R01-AI110964)."
Ebright said these sections of the documents show that NIH grants supported the construction of mutant SARS-related coronaviruses that involved blending different types together. The result was a lab-generated virus that could infect human cells, he said, adding that at least three of the lab-generated viruses "exhibited >10x to >100x higher viral loads in humanized mice."
A humanized mouse is a mouse that has been bio-engineered to mimic certain biological characteristics similar to humans, such as the immune system, so that they can be tested on in labs as a human surrogate. They are commonly used in research.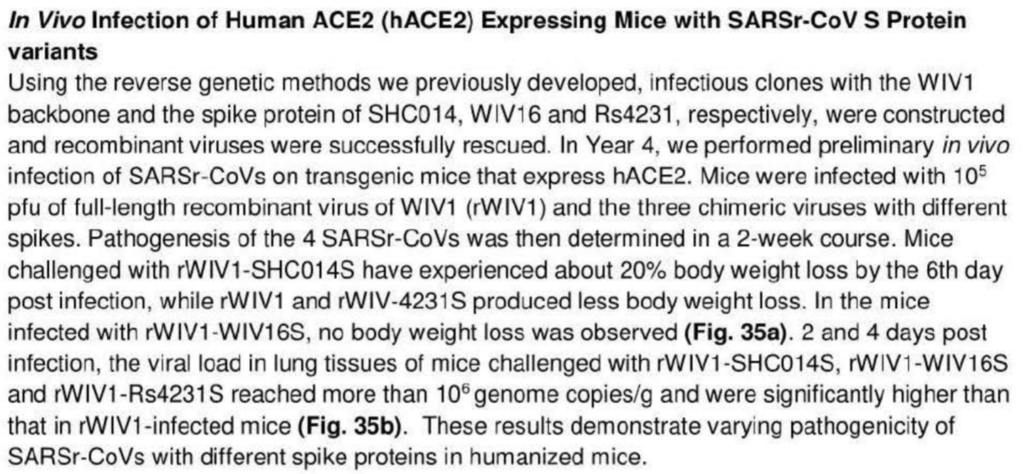 The two documents released by The Intercept can be found here and here.
The question is whether this work on humanized mice constitutes GOF research on a coronavirus that would make it more dangerous to humans. Ebright says it does.
Newsweek contacted the NIH for comment from Fauci and received this statement: "NIH has never approved any research that would make a coronavirus more dangerous to humans.
"The research we supported in China, where coronaviruses are prevalent, sought to understand the behavior of coronaviruses circulating in bats that have the potential to cause widespread disease. The body of science produced by this research demonstrates that the bat coronavirus sequences published from that work NIH supported were not SARS-CoV-2.
"More importantly, because of similar research to understand coronaviruses, we were able to move swiftly to develop vaccines against SARS-CoV-2 and save lives."
The health agency issued a statement in May explicitly denying having "ever approved any grant" that would have supported GOF research to make coronaviruses more dangerous to humans.
The NIH did not immediately respond to a request to confirm it denies funding GOF research in light of the newly released documents
"There are many things we..do not know about the..pandemic—including..whether it began with natural spillover..or..laboratory incident..But we do know one thing now beyond debate:..gain-of-function..experiments on..bat viruses were taking place in Wuhan"https://t.co/JyH8HlkHey

— Richard H. Ebright (@R_H_Ebright) September 10, 2021
Rand Paul, the U.S. senator for Kentucky, saw an interpretation Ebright made of the documents on Twitter as vindication of his criticisms against Fauci.
He tweeted: "I was right about his agency funding novel Coronavirus research at Wuhan."
Surprise surprise – Fauci lied again

And I was right about his agency funding novel Coronavirus research at Wuhan.

Read this thread and the papers released. https://t.co/zQizKXLdbd— Senator Rand Paul (@RandPaul) September 7, 2021
Paul has repeatedly asserted that the U.S. funded gain of function research. The two had a public spat at a Senate Health Committee in July, with Paul suggesting Fauci lied to Congress about whether the NIH funded GOF research.
Fauci said he "never lied before the congress" and stood by his assertion that the NIH did not fund GOF research at the Wuhan Institute of Virology. He said: "Sen. Paul, you do not know what you're talking about, quite frankly."