Police shot a man and it is believed that several people were injured in a major incident in central London.
The Metropolitan Police said that, as a precaution, they responded to the incident on the London Bridge "as if it were related to terrorism."
#LondonBridge
London Bridge, another muslim terrorist?
Puente de Londres#London pic.twitter.com/USFAxhk3cD

— Lautaro Salgado ✂ (@Lebtxaru140) November 29, 2019
Several ambulance teams were on the scene Friday afternoon and a "major incident" had been declared, the London Ambulance Service said on Twitter.
Images and videos on social media showed emergency vehicles on the north side of the bridge, and spectators reported hearing what sounded like shots.
Lloyd Griffiths, 35, was on a bus on the bridge while the incident was taking place. He told him that he saw an altercation when several people tried to fight a man with a knife before the police intervened.
"I saw the shine of a knife or a sheet of metal, it was amazing. It was a big leaf, it wasn't small, and then they locked me in the bus, people tried to tear down the man, they tried to face him, ordinary people jumped out of cars, trying to face him, "Griffiths told reporters.
"Then the police arrived with guns, screaming," before shooting the man, Griffiths added.
Police, who were called to the incident shortly before 2 pm local time, tweeted that the circumstances surrounding the incident were still "confusing" and that they would provide more information when possible.
Prime Minister Boris Johnson said "he is kept up to date on the incident on the London Bridge and wants to thank the police and all emergency services for his immediate response."
Other videos showed people evacuating bars near the bridge. London Bridge is a busy area of ​​the city that houses several restaurants, bars and businesses. A terrorist attack on the bridge in 2017 left several people dead.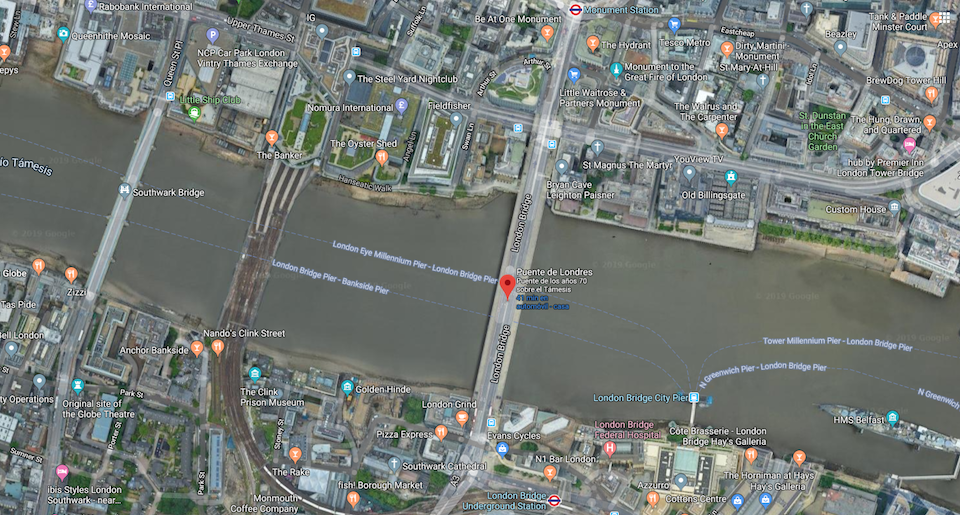 The London Bridge train station, which serves the area, is closed and the trains do not stop, the British Transportation Authority said. The mayor of London, Sadiq Khan, said he is in "close contact" with the police.
Jinnat Ui Hasan told the news that he was at a meeting in a building near the incident when he heard "more than five" shots.
Elsewhere, 26-year-old Stevie Beer commented that her workplace that overlooks the bridge was closed.
"A colleague who was having lunch sent me a message to tell me that there had been an incident on the London Bridge and that he could not cross the river. I went straight to the window and saw hundreds of people running across the bridge down Tooley Street. "
"People seemed very scared. It was disturbing. There were at least half a dozen police cars and buses stopped. Our building is now closed, but we have not been given any specific information, "he added.
Police told news that they were dealing with a "dynamic situation."