A man was killed, and a woman was critically wounded in a shooting Saturday night in Humboldt Park on the Northwest Side.
About 9:15 p.m., the man and woman, 24 and 25, were in the 3200 block of West Division Street, when they were ambushed by up to three males who fired shots at them, Chicago police said.
The man, Gyovanny Arzuaga, was rushed to Saints Mary and Elizabeth Medical Center, where he was pronounced dead, police said.
The woman was struck in the neck and rushed to Stroger Hospital in critical condition, police said.
A memorial for Arzuaga was erected Sunday just feet from where the 24-year-old father of two was shot dead in Humboldt Park a day earlier.
A black poster board with messages like "Happy Father's Day" and "RIP Gyo" was taped to a post. Loved ones lit candles and left balloons and bouquets of flowers for Arzuaga, who was with a woman Saturday at Chicago's annual Puerto Rican People's Day Parade before they were attacked.
"He was just there to have a good time and go back home," said his friend, Jae Pacheco, who had planned to meet up with him later in the evening.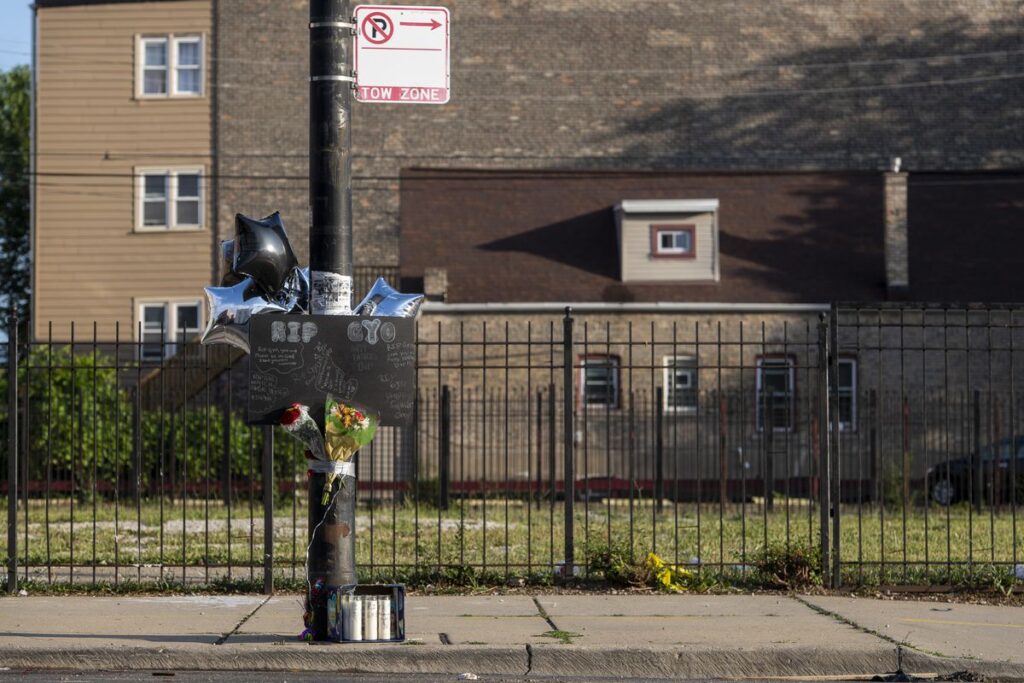 Fragments of a broken red tail light littered the street near the memorial. A police spokeswoman said there was a crash before the shooting, leading a large crowd to surround Arzuaga's vehicle in the 3200 block of West Division Street.
Arzuaga and the woman were ambushed by up to three men, who fired shots at them, police said.
Graphic surveillance footage purportedly showing Arzuaga's killing was circulated widely online over the weekend, but a police spokeswoman couldn't confirm whether the video actually depicts his shooting, which Area Four detectives are continuing to investigate.
Before the incident, police shut down some of the streets surrounding Humboldt Park, creating traffic jams.
On Thursday, Ald. Roberto Maldonado (26th) in a Facebook post expressed disappointment in the local police district's "drastic" decision to close Luis Munoz Marin Drive, a street near the annual Puerto Rican Parade, in an attempt to prevent shootings. But a police spokesperson said Sunday the inner drive of the park has never been opened to vehicular traffic during the Puerto Rican Parade.
Maldonado didn't respond to requests for comment Sunday.
Arzuaga was remembered Sunday as a family man and gym freak who was funny and "full of life," said Pacheco.
"He was such an amazing friend. He was really caring," Pacheco said. "… He was just about being around good vibes, being around good people."
Pacheco said Arzuaga had just celebrated his 24th birthday Thursday.
"I was honestly blessed to have a friend like Gyovanny," Pacheco said. "The last thing I told him on his birthday was, 'God bless you with so many more because this world definitely needs people like you.'"
Isaly Schaffner started a GoFundme for the family which link is https://gofund.me/2def6fb9 . Her Instagram account is @vashappenin1993 .
Original source: The Chicago Tribune