After hanging on for her life, Yasmin Perez who was the tragic victim of a vicious attack from an alleged gang in Chicago and shot along side her beloved partner Gyovanni Arzuaga, past away two days after the incident. It is still unclear as to who shot Yasmin, and could it have been by accident. Although, the shooting of her boyfriend Gyovanni was clearly intentional.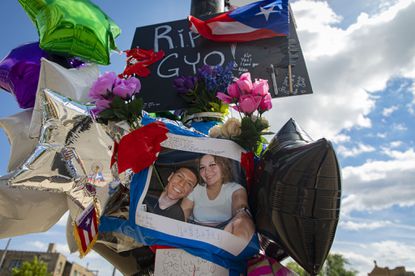 The individuals described as possible African Americans left both Yasmin and Gyovanni for dead as they flee the scene captured in a horrifying video. Several people beat Perez and then shot her, Chief of Detectives Brendan Deenihan said Monday. When Arzuaga came to her aid, he was shot by a second person "almost execution style," Deenihan added.
Police have said the couple were driving on the 3200 block of West Division when they were involved in a minor crash and ambushed. Yasmin hit a parked car, then the gang members came out of the vehicle dragging Yasmin out and beating her. Gyovanni is seen rushing to attempt to shield her, before he is gun down.
This incident occurred Saturday night amid the Puerto Rican Day festivities in Chicago's Humboldt Park neighborhood.
Both Perez, 25, and Arzuaga, 24, were the parents of two young children.
VivoMix Media is committed to continue to report on this story until justice is made.