New York City – After a two-year pause due to the pandemic, the St. Patrick's Day Parade has returned to Manhattan's Fifth Avenue. Many crowded the streets hours before the 11 a.m. start. Despite the good spirits of the day, many business owners remain concern over the mayors' continued restrictions on private and public workers that have kept countless of patrons away from the city. A move that has contributed to significant losses for the business sector.
Morris Kenneally flew in from Ireland for the celebration and gave New York some props for the parade. "We're over for the parade, to celebrate the end of the pandemic, so we said no better place in the world than New York… you do it better than we do."
Roisin Bradley also came in from Ireland. "This is my first time in New York," she said. "We were meant to go here two years ago, COVID shut everything down, but we got here in the end."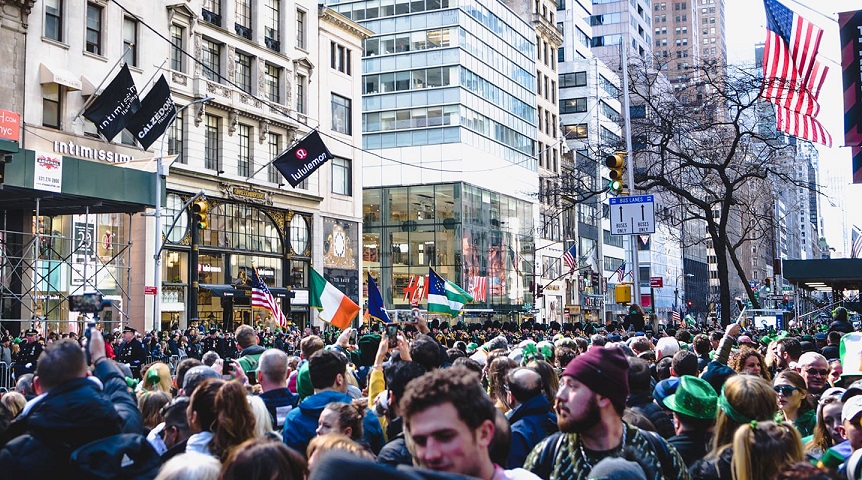 "We came across just for the special day," Craig McCafferty, who flew in from Scotland to attend, told sources. "Gonna see it, gonna have fun, have a few drinks."
The parade started at 11 a.m. and will march up Fifth Avenue, from East 44th Street to East 79th Street. It typically ends around 1 p.m., at which point revelers filter into bars like the historic McSorely's on East 7th Street, where there was plenty of celebrating last year despite the parade being canceled.
Coming in all the way from Brooklyn was Melissa Stokes, who was excited to be back after two years. "I've been here many times, and I'm back and loving this day, whether there's sun, rain, snow, I've been here. I'm here to enjoy it!"
Fellow Brooklynite, Mayor Eric Adams, is attending the festivities throughout the day as well. He began his morning with a wee pub crawl at two Irish bars in Midtown. At Pig N' Whistle on West 48th Street, he sat at a booth drinking a Guinness with the bar owners and members of National Guard from the 1st Battalion, 69th Infantry known as the "Fighting 69th." The group leads off the parade every year.
"It's good to see people back out again," said Eugene Wilson, one of the bar owners.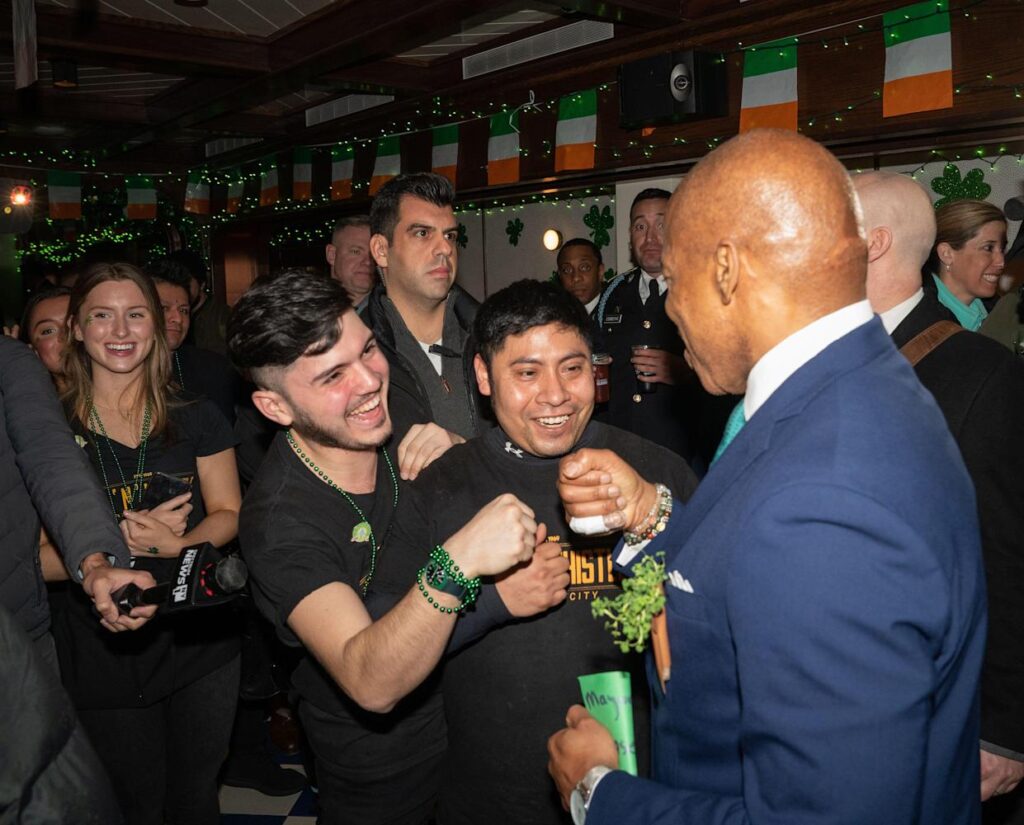 Wilson said Adams talked about getting more people to come back to the office. The Dublin native, who has operated the bar for 18 years, said his customers are mostly working hybrid at this point, working three days a week in the office. "It's not really enough to meet payroll and rent at the same time," he said. Although, Adams is responsible for firing over 1,400 New York City public workers on Valentine's Day and has forced countless of private sector employees out of their jobs due to his continuing enforcement of Bill De Blasio's so called "No Jab, No Job" mandates.
During an earlier interview, unrelated to today's event, Adams demonstrated concerns over possible perceptions if he lifted vaccine mandates for employees in New York City, despite admitting that it didn't make much sense at this point. Particularly when outsiders can make money and earn a living in the city without requiring vaccination.
Adams was greeted with celebratory handshakes and selfie requests by patrons. But outside the bar, a handful of parents held protest signs against the city's masking requirement for children under five in schools and daycares.
"I got this," the mayor told them. "I'm a dad." Adams has said he would eventually lift mask wearing for the youngest children once his experts determine there is no spike in cases.
The first version of the St. Patrick's Day Parade in NYC was on March 17th, 1762, held by Irish soldiers serving in the British army. And the parade grew from there, as more Irish immigrants came to the U.S. in the mid-19th century.