There are two things you can certainly say about Jennifer Lopez, she's "Jenny the block" and once again the "Bennifer" dynamic duo with Ben Affleck. And "once again" isn't an understatement. The couple have rekindled their romance after nearly 20 years since they first became a Hollywood love sensation.
Shortly after JLo's break-up with A-Rod, Ben had reportedly been seen getting into a white SUV that took him to Jennifer's Los Angeles home. When you're a high-profile celebrity, especially with their history together, there's no doubt why they would want to have some privacy.
The pair first connected in 2002 on the set of the ill-fated Gigli. The two played gangsters who fall in love while attempting to kidnap a neurodivergent man. The movie flopped at the box office and among critics, who claimed Affleck and Lopez didn't have much chemistry.
It was a different story off-screen. Lopez filed for divorce from second husband Cris Judd in June 2002, and she went public with the Good Will Hunting star after.
The "Waiting for Tonight" singer had another rock on her finger by November. Affleck proposed with a 6-carat pink diamond that had smaller white diamonds on the sides.
The ring caught plenty of media attention as did J. Lo's "Jenny From the Block" music video. Paparazzi caught Bennifer filming in various cities throughout the fall before the clip was finally released in November. It included plenty of scenes of the couple showing their affection for each other.
The duo even welcomed Dateline's Pat O'Brien into their Vancouver rental home to discuss their relationship, but they wouldn't say exactly when they fell in love. "You can't pinpoint it," Lopez said. "We became friends first. That is the honest to God truth."
Their wedding was set for September 2003, and Lopez said she'd change her name to Jennifer Affleck after the wedding. However, they never made it to the altar, canceling just days before the ceremony due to "excessive media attention."
They announced their official breakup in January 2004. Lopez would marry Marc Anthony in June 2004 while Affleck moved on with Jennifer Garner that year as well.
Though it didn't work out, Affleck and Lopez have only been kind to each other in the press. "We just happened to be together at the birth of the tabloids, and it was like 'Oh, my God.' It was just a lot of pressure," she told PeopleTV's The Jess Cagle Interview in 2016.
She continued, "I think different time, different thing, who knows what could've happened, but there was a genuine love there."
Affleck, meanwhile, praised her in InStyle in April 2021 as "the hardest-working person I've come across in this business. She has great talent, but she has also worked very hard for her success, and I'm so happy for her that she seems, at long last, to be getting the credit she deserves."
By April 2022, the couple were officially engaged for the second time. Lopez revealed that the actor popped the question nearly two decades after their original split.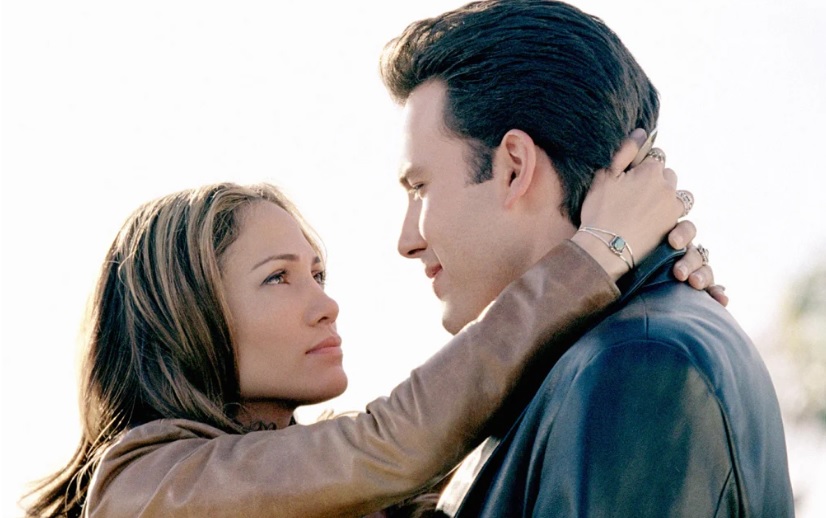 Early 2002
The two met on the set of Gigli, which sank at the box office while their relationship sizzled. Lopez was married to her second husband, Cris Judd, but Lopez filed for divorce in June 2002 and it was finalized the following year.
November 2002
After weeks of paparazzi photos from the set, the "Jenny from the Block" music video premiered on TRL. Affleck costarred and engaged in some heavy PDA with J. Lo.
2003
Lopez and Affleck filmed their second movie together, Jersey Girl. It's another box office bomb.
September 2003
Just days before they were set to say "I do," Bennifer called off the wedding. They cited "excessive media attention" but remained together.
January 2004
Lopez and Affleck announced their breakup.
March 2016
Lopez believed tabloid attention majorly impacted the relationship. "I think different time, different thing, who knows what could've happened, but there was a genuine love there," she told Jess Cagle.
February 2020
Affleck said Lopez should have received an Oscar nod for her work in Hustlers. "She should have been nominated. She's the real thing, "he told New York Times reporter Brooks Barnes. "I keep in touch periodically with her and have a lot of respect for her. How awesome is it that she had her biggest hit movie at 50? That's f–king baller."
April 2021
Affleck was spotted in a white SUV, supposedly to visit Lopez.
May 2021
Less than two weeks after Us confirmed that the former couple had been spending time together again, the duo were spotted vacationing in Big Sky, Montana. "They looked very happy together," an insider told Us of the trip. "It was just the two of them on vacation together. Big Sky is a special place to Ben."
May 2021
After sparking romance speculation in April 2021, a source exclusively told Us in May that the exes have "always loved each other" and Lopez's friends "won't be surprised if they end up together." A second source added that the duo had a "heart-to-heart" following their respective splits from Ana de Armas and Alex Rodriguez in 2021, which "reignited a spark between them."
May 2021
Days after Us confirmed that Lopez was in California to visit Affleck, the Massachusetts native and the Grammy nominee were spotted hanging out together in Miami. The director was seen walking behind Lopez as the musician smiled during their Florida outing in photos obtained by the Daily Mail in May 2021.
"Jen and Ben are both very happy with each [other] and are excited to see where the relationship goes," an insider told Us following the duo's Miami getaway. "They are full-on dating and very happy together."
June 2021
The couple were spotted cuddling and holding hands in West Hollywood as they headed to a dinner date in photos posted by Page Six.
June 2021
The lovebirds were making out in Malibu when they attended a birthday dinner for Lopez's sister at Nobu. In photos obtained by Page Six, the two packed on the PDA as they locked lips and stayed close throughout the night.
July 2021
The Gigli costars got cozy in the Hamptons while celebrating 4th of July shortly after taking their kids on a fun-filled trip to Universal Studios in Hollywood. Days later, Lopez gushed that she's "never been better" during an interview on Zane Lowe's Apple Music radio show. "It's the best time of my life," she said.
July 2021
As the duo's relationship continued to heat up, a source told Us that the pair were "fully committed" to starting a future together — and planned "on moving in together very soon." The same month, a second source revealed Affleck and Lopez had been house hunting in Beverly Hills and Bel Air.
July 2021
"There's been so many times in my life where I have not felt happy, just like anybody else. And I think I'm good at hiding that from the public because I don't feel like that's their burden to carry. I don't put that on them," Lopez said while promoting her single "Cambia El Paso" on Apple Music, adding that she'd felt "really, really good" in recent months. "Everything is just amazing. And I feel great. Everything is beautiful."
July 2021
The pair were spotted house-hunting in the chic Holmby Hills neighborhood of Los Angeles. One of the homes they looked at was listed at $65 million and included a bowling alley, movie theater, gym and wine cellar. In video footage obtained by TMZ, the duo packed on the PDA while looking at real estate.
July 2021
The "Dance Again" singer playfully dodged a question about whether she looks "happier" during an interview with Hoda Kotb. She replied she is "always happy when you see me" after the Today host commented on her appearance. When Kotb asked point-blank if she was "happier," Lopez turned the discussion back to her new song with Lin-Manuel Miranda. "The song is out, five years since we've done it," she said on the Today show appearance. "And I believe that that message of loving one another and coming together and love, is never more relevant than it is right now."
July 2021
The couple made their subtle debut on Instagram in a video posted by Leah Remini. In the montage, Lopez and Affleck got cozy in a black-and-white photo booth snap.
uly 2021
To celebrate Lopez's 52nd birthday, the two went to France. They arrived in Nice on a private airplane and headed straight for the sea. They spent time snuggling and kissing on a yacht off the coast of Monaco.
The singer even shared a photo of her and Affleck kissing via Instagram.
August 2021
After Lopez's daughter joined the couple for dinner at Craig's in Los Angeles, Affleck was spotted supporting his girlfriend on the set of a new project.
August 2021
Lopez and her teenage twins were joined by Affleck's daughters at Hollywood's Pantages Theater for a performance of Lin-Manuel Miranda's Hamilton.
September 2021
The duo attended the Venice International Film Festival premiere of Affleck's movie The Last Duel, marking their first red carpet appearance since rekindling their romance earlier in the year. Prior to the event, their last red carpet outing together was for the August 2003 premiere of Gigli.
September 2021
The duo did some family bonding when took Affleck's daughters, Seraphina and Violet, as well as Lopez's twins, Max and Emme, to an outdoor movie in Los Angeles.
September 2021
Affleck gushed over his "strong" girlfriend as she was named Adweek's 2021 Brand Visionary. "I am in awe of what Jennifer's effect on the world is. At most, as an artist, I can make movies that move people. Jennifer has inspired a massive group of people to feel they have a seat at the table in this country. That is an effect few people throughout history have had, one I will never know and one I can only stand by and admire with respect," he noted at the time.
October 2021
Affleck and Lopez posed on the red carpet for the New York premiere of The Last Duel at the Jazz at Lincoln Center's Rose Theater.
December 2021
The couple masked up as they headed to the movies with their children in Los Angeles on December 4.
December 2021
The couple spent a romantic night together at a Los Angeles Lakers game, sitting courtside and sharing a few kisses between plays. When the Jumbotron broadcast a video of the happy pair engaged in some light PDA, the crowd cheered.
January 2022
"This is adorable from The Tender Bar," the "On My Way" songstress gushed while opening a PR box from the Prime Video movie via Instagram Story. "There's a great scene in a bowling alley with Ben and the little boy. Ben plays his uncle [and] they're both amazing in the movie if you haven't seen it, you should. This is awesome."
February 2022
"We were just on the boat! There was no recreation!" Lopez told People. "I was lying down. … It was a trip I like to take for my birthday, but no, we were not intentionally recreating it. I didn't know there were paparazzi out in the middle of the ocean either!"
February 2022
The Marry Me star said she and Affleck are trying to keep their relationship private because they remember the publicity circus of their early '00s romance.
"I think what we learned from the last time is that love, when you are lucky enough to find it, is so sacred and special and you have to hold a little bit of that privately and that's what we've learned," Lopez said during an appearance on Today. "But we're very happy, if that's what you wondering about."
February 2022
Affleck walked the red carpet alongside his girlfriend at the Los Angeles premiere of her romantic comedy Marry Me. Lopez told Entertainment Tonight that the red carpet was a night of work and fun for her.
"It's a great date night. We're super happy," the singer said. "What can I tell you? We're just having a good time."
February 2022
The Last Duel star directed a special remixed music video of Lopez's "On My Way" single, which was released in conjunction with the Marry Me film.
"I am going to share something very special and personal with you that normally that I would only share with my inner circle," Lopez wrote via her OnTheJLo newsletter on February 11. "It's an early Valentine's Day present from Ben. Watching it made me think about the journey of true love, it's unexpected twists and turns, and that when it's real, it actually can last forever. This seriously melted my heart."
February 2022
The twosome attended Super Bowl LVI in Inglewood, California, on February 13, where they danced in the crowd.
March 2022
Affleck subtly appeared in Lopez's "Marry Me" music video. While the actor's face isn't shown, eagle-eyed fans spotted his arm and neck in the final shot, cuddling Lopez in bed. In another scene, a portrait of Affleck is visible atop her piano.
March 2022
Affleck and his son, Samuel, supported Lopez as she accepted the Icon Award at the 2022 iHeartRadio Music Awards. "I want to say thank you to every one of you for believing in me when other people didn't, even when I didn't," the singer gushed during her emotional speech. "Thank you for teaching me who I really am."
March 2022
Marin, who worked with Lopez on Shotgun Wedding in March 2021, recalled Affleck reaching out to his ex-fiancée when they were filming. "She was just so happy all the time," Marin told HollywoodLife one year later. "I wish them only good things in life especially if they can make it and do this at the same time."
April 2022
They're engaged! Lopez announced that Affleck popped the question again 18 years after their initial split via her On the JLo newsletter. In a video message sent to her fans, an emotional Lopez showed off her huge, green diamond engagement ring, saying, "You're perfect." She also teased the "major announcement" with a video on Twitter on April 8. "So I have a really exciting and special story to share…" the singer told her followers, adding a diamond ring emoji to her Twitter handle.
April 2022
A few days after her initial engagement announcement, Lopez revealed in another "On the JLo" newsletter that Affleck proposed on April 2 while she was in the bathtub.
"Saturday night while at my favorite place on earth (in the bubble bath), my beautiful love got on one knee and proposed," she wrote. "I was taken totally off guard and just looked in his eyes smiling and crying at the same time trying hard to get my head around the fact that after 20 years this was happening all over again, I was quite literally speechless and he said, 'is that a yes?' I said YES of course that's a YES."